As part of their half-term programme, Mallard Days tutor and earth scientist Hannah Wynn presented a rocks and minerals handling session at the National Glass Centre in Sunderland.
Hannah's session gave members of the public the opportunity to get "up close and personal" with a range of rock and mineral specimens, both from close to home, and all around the world.
It's amazing just how wide the variety of minerals is, and how their properties vary – even within those formed in similar conditions and in similar places in the world.
Also on show were some samples of volcanic rocks from both Iceland and the Canary Islands which Hannah had collected herself during geological expeditions.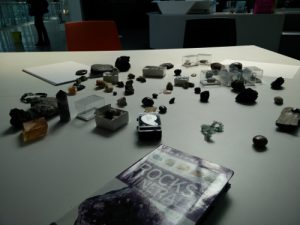 Keep watching on the Mallard Days website for more details of our programme of outreach events over the Summer.
If you would like to have any (or all!) of the Mallard Days team at your event, please don't hesitate to contact us at admin@mallard-days.com.